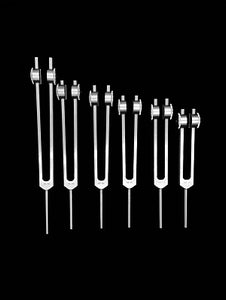 This Set includes:
Grounding/Earthing, 54 Hz/72 Hz (Weighted)
Balancing/Restoring, 81 Hz/99 Hz (Weighted)
Energizing/Uplifting, 108 Hz/135 Hz (Weighted)
Our Body Harmonizing Tuners are a complete set of six weighted tuning forks used on the body.
The Body Harmonizing Tuners all have a frequency based on the number nine.  The number nine is known to be the number of completion and perfect harmony.
Use these forks on yourself for healing energy penetrating deeply into your body or as a Practitioner to do a complete vibrational balancing on clients.
Storage pouch included.